Periplaneta americana, commonly known as the American cockroach, one of the most dreaded pest of them all, has now crept its way into robotic studies, thankfully far from the reaches of our homes!
Researchers at UC Berkeley noted the ability of cockroaches to squeeze and maneuver them-selves into the tiniest of cracks and crevices: under doors, into cabinets and between walls, all in a matter of seconds. Another feature that piqued the researcher's interest is the cockroaches amazing capacity to withstand pressure up to 900 times its body weight. No wonder they don't succumb to a simple squishing by a human foot.
The American cockroach can squeeze through cracks the width of two stacked pennies. (*Photo by Tom Libby, Kaushik Jayaram and Pauline Jennings. Courtesy of PolyPEDAL Lab UC, Berkeley)
The largest of these creatures can grow up to 7 mm in height (about 0.25 inches). In a con-strained place, their bodies can shrink to more than half that size using a phenomenon of splaying or spreading their legs wide out. An experiment to measure this capacity was conducted wherein the cockroach was made to run into a tunnel of varying heights, with the narrowest being about 3 mm. The results induced awe because not only did the cockroach endure the tight-ness but it also maintained a great velocity. The speed was found to correlate with the unique-ness of their bellies and legs, with a certain tenacity. Scientific trials show that the jointed exoskeletons allow for quick movement by altering their size and shape and regaining it back ac-cording to the environment. This type of locomotion is colloquially called "body-friction legged crawling."
In 2014, researchers installed cameras and microphones on live cockroaches during disaster relief operations, but the concept of its exact movements were not identified. Two years later Jayaram and Full of Berkeley ventured deeper into the area of cockroach robotics and gave us an advanced automaton.
Say hello to CRAM (Compression Resistant Articulated Mechanism), the only tolerable, even cute, form of cockroach imaginable! The palm-sized robot made of poster board and polyester was built with highly compressible, bendable legs which are mechanized for speed. It also as a plastic shield that imitates the insect's wings and the malleable outer layer covering its entire body. This was created to perform in both open and confined spaces.
Testing hard bodies, particularly those with exoskeletons, in soft robotics has surely found a futuristic way forward. But what is this bot's purpose? The robotic cockroach finds use in rescue operations during calamities such as earthquakes and explosions where there is an urgent medical need to search among debris. Currently, an inexpensive kit of the same sort of design, origami like, is made available by Dash Robotics. But since this is only a prototype, building a more powerful and versatile one is in the works, one that potentially can jump and climb. The biologists propose to examine other parts of this thriving species of cockroach for potential applications in various other fields.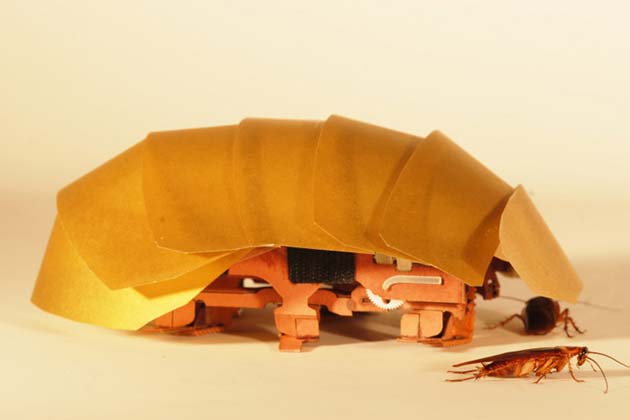 The CRAM robot, inspired by cockroaches, can crawl even when squashed to half its size. (Photo by Tom Libby, Kaushik Jayaram and Pauline Jennings. Courtesy of PolyPEDAL Lab, UC Berkeley)
So the next time, before panicking or devising a method to get rid of the indestructible cock-roach, stop to think and let the story of its survival mechanisms be an inspiration to you!
Top image: The CRAM robot, inspired by cockroaches, can crawl even when squashed to half its size. (YouTube)
References:
Sanders, R. (2016), UC Berkeley News, http://news.berkeley.edu/2016/02/08/cockroach-inspires-robot-that-squeezes-through-cracks/, (accessed 28 Jan 2017)
Jayaram, K. et al. (2016), 'Cockroaches traverse crevices, crawl rapidly in confined spaces, and inspire a soft, legged robot', PNAS, 113 (8), Pp 950-957
Khan, A. (2016), LA Times, http://www.latimes.com/science/sciencenow/la-sci-sn-cockroach-rescue-robots-bioinspired-20160208-story.html, (accessed 29 Jan 2017)
UC Berkeley, (2016), https://www.youtube.com/watch?v=81Zv8PPF8bE, (accessed 28 Jan 2017)
Plaugic, L. (2016), The Verge, http://www.theverge.com/2016/2/8/10936886/robot-cockroach-prototype-search-rescue-uc-berkeley, (accessed 30 Jan 2017)