Some regions of the United States, such as California, face severe water shortage in the summer months, owing to reasons such as climate change and poor infrastructure. Statistics show that the drought-stricken west coast of America relies on snow water from the mountains, which itself could diminish in the next decade or so. This justifies the need to create sustainable systems and environments to address the crisis.
At ReNUWIt (Re-inventing the Nation's Urban Water Infrastructure), a collaboration of scientists, researchers and engineers are working towards finding innovative methods and techniques that help in the conservation and application of urban waste water, such as from storms and drains, in more effective ways. Deputy Director, David Sedlak, in an interview with Berkeley, was quoted saying, "Our urban water infrastructure, mostly built after World War II as California underwent massive development, needs a major upgrade in order to keep our cities thriving well into the future."
David Sedlak is a professor of civil and environmental engineering. (UC Berkeley photo by Elena Zhukova)
The Advent of New Technologies
Companies like ReNUWIt are heading in the direction of recycling and treating wastewater, including the effluents from sewages, sewers and drains. Sedlak describes the process as an advanced method of putting water through a process of reverse osmosis and UV light, followed by exposure to a round of hydrogen peroxide. With this, due to the cleaning and chemical breakdown, the unusable H20 is rendered potable.
Another major infrastructural boost and means to purify water are wetlands. Existing biological swamps perform the function of treating water naturally by removing metal components with the help of microorganisms, and this water can be released back into the rivers if considered unsuitable for use. There is now a growth spurt in constructed "artificial" wetlands and reservoirs, to achieve the same mission of acquiring clean, drinking water yet in an improved and safe form, whilst still maintaining the sanctity of the ecosystem.
Motivation for such a large commitment stemmed from several multifaceted projects in the past like the Urban Water ERC, which has also taken on the challenge to develop and replace the framework for natural resource and water management. Richard Luthy of Woods Institute for the Environment, Stanford, said, "Urban water represents a monumental challenge for the United States and it deserves concerted research and thinking on the grandest scale." What would be extraordinary, as the researchers say, is to utilize the ability of this treated water to produce electricity and heat, eventually preserving energy and natural resources in the environment.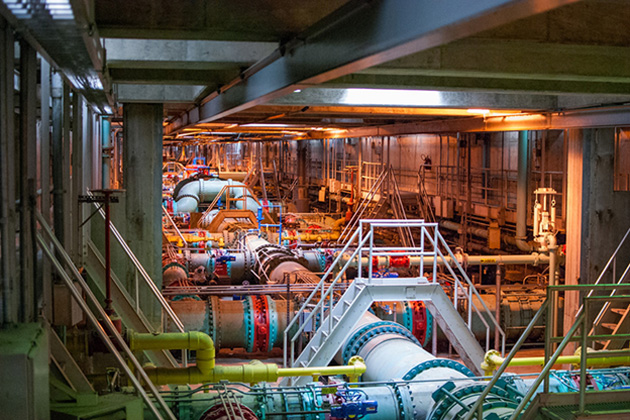 Blue Plains Advanced Wastewater Treatment Plant is operated by DC Water in Washington, D.C. It's the largest treatment plant in the world, able to treat 384 million gallons of sewage a day. (Chesapeake Bay Program photo by Alicia Pimental via Flickr)
It is fundamental to remember that the water issue cannot be overcome with a single innovative solution or in a short duration of time. In fact, improving the urban water infrastructure requires fraternization from multiple areas of science and engineering, even extending to the public being encouraged to take steps in their own capacities, including harvesting rainwater and buying products such as vacuum toilets or recirculating showers.
Top image: Glass of water (Public Domain)
References:
Brice, A. (2017), Berkeley News, http://news.berkeley.edu/2017/06/22/reinventing-urban-water-infrastructure-david-sedlak/, (accessed 10 Jul 2017)
Myers, A. (2011), Stanford News, http://news.stanford.edu/news/2011/july/urban-water-infrastructure-072011.html, (accessed 10 Jul 2017)
Cimons, M. (2011), National Science Foundation, https://www.usnews.com/science/articles/2011/11/10/urban-water-infrastructure, (accessed 11 Jul 2017)
ReNUWIt, http://renuwit.org, (accessed 9 Jul 2017)