The excessive use of air conditioners or space heaters, a luxury in the developed world, is one of the main causes of global warming and unpredictable meteorological patterns. By excessive, we mean 87% of homes in the United States use energy for artificial climate control, in comparison to 2% that a populated country like India requires. This has influenced the rise of several inventions in the Information Age to save the planet and yet maintain comfortable lifestyles.
One such product, dubbed Wristify, has been created by student researchers, Shames, Mike Gibson, David Cohen-Tanugi and Matt Smith at MIT's EMBR Labs and designed by Niccolo Casas. Wristify is a manually operated thermostatic wristband that helps regulate the wearers' body temperature according to their preferences. It does this by emitting natural diffusing waves. For example, a reporter out in a snowstorm can push a button on the bracelet to feel instant warmth on the skin radiating from the blood-rich wrist to other parts. Similarly, the device can be made to cool the body when it is hot or the air is humid, like in crowded places or during outdoor activities. To what extent? A 0.4-degree Celsius rise or fall in temperature every second without altering the core temperature drastically. Travelers, rejoice as acclimatizing across countries and climates is now that much simpler! So essentially, the notion deals with individual needs rather than the actual weather conditions.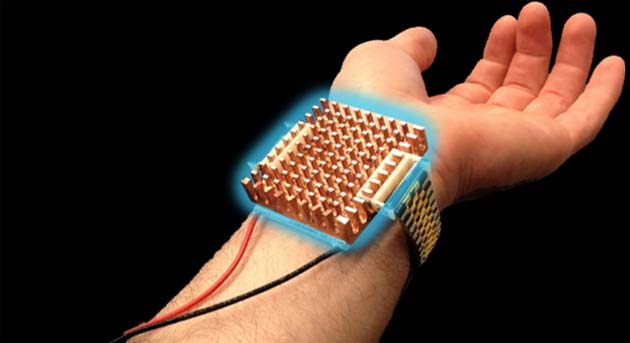 The Wristify prototype (Wristify)
The ingenious band was tested on friends and family and the makers saw them "smile" on reaching their desired state — appeased! This certainly makes for a successful proof-of-concept already. Much deliberation and research was involved in hunting for the right material for construction and understanding the nature of the human body when subject to varying temperatures, which, in fact, is known to adjust extremely well to a constant cold/hot object placed on it. Currently, the product does not have an intelligence and cannot sense a person's requirements on its own, but a prototype is being created to incorporate this. As well as this, improvements in developing the look and the ease of wearing the product are being considered in order to appeal to all genders and ages.
This watch-shaped gadget is smart, efficient and sensitive, and according to Cohen-Tanugi, was built with an aim of reducing the usage and consumption of power in houses, buildings and corporations. Hopefully, this personalized thermoelectric wristlet will lead to the decline of air conditioning units, if not completely eliminate them.
With Wristify projected to release shortly, we can't help but be amazed at how a small change in managing or fooling our bodies and its senses can considerably inspire energy savings! As co-creator Shames sensibly puts it, "Why heat or cool a building when you could heat or cool a person?"
Top image: Women using the Wristify band. (designtoimprovelife.dk)
References:
EMBR Labs, http://www.embrlabs.com, (accessed 17 Mar 2017)
Chiu, Y. (2016), IEEE Spectrum, http://spectrum.ieee.org/energywise/energy/environment/wristify-thermoelectric-bracelet-would-reduce-energy-consumption, (accessed 18 Mar 2017)
Alter, L. (2015), Treehugger, http://www.treehugger.com/sustainable-product-design/index-can-wristify-work-personal-air-conditioner.html, (accessed 18 Mar 2017)
Vanhemert, K. (2013), Wired, https://www.wired.com/2013/10/an-ingenious-wristband-that-keeps-your-body-at-the-perfect-temperature-no-ac-required/, (accessed 18 Mar 2017)