The National Spinal Cord Injury Association has estimated that about 450,000 people in the United States are living with spinal cord injury (SCI).
There are several ways this condition could occur, but the most common cause is because of trauma to the vertebral column. The severity of the SCI depends on the part of the spinal cord that is affected; an injury closer to the brain/higher on the vertebrae would affect the central nervous system more thus causing incomplete, complete or penetrating SCI, and paralysis, accordingly. Such injuries are classified using the AIS (American Spinal Injury Association Impairment Scale) system.
Although there have been some developments in the area (e.g., communication through brain-sensing and the development of 'smart' prosthetics), a recent investigation has shown that electrical stimulation on the spine via an implant, paired with a special physical program, can re-train the body and even help patients of paralysis walk on the ground again.
This method was tested on four individuals who were paralyzed, and it was seen that, after the treatment, they were able to walk again; two of them performed without any external help.
Seen in this picture is one of the volunteers of the study, Kelly Thomas, walking with support. After a horrible road accident, a few years ago, she sustained a spinal cord injury and was left paralyzed. On her left is Susan Harkema of the Kentucky Spinal Cord Injury Research Center. (Source: University of Louisville in Kentucky)
Lead author of the paper, Dr. Claudia Angeli of the University of Louisville's Spinal Cord Injury Research Center said, "It is incredible to be able to be in there and actually see them take their first steps." She also added, "It is an emotional time for the individual [themselves] because it is something that they have been told they are never going to be able to do again."
The paper related to this study was published in the Sept 2018 issue of The New England Journal of Medicine.
Combination Therapy: Spinal Implant & Physical Training
Previous experiments by the same group of researchers showed that epidural stimulation of the spine combined with rehabilitation could enable some movement to the area below the SCI. The hope of standing independently, which many patients of paralysis much desire, was also achieved as part of the study.
The latest development by the University of Louisville team claims that two of out of the four patients with motor complete spinal injury (i.e., no movement below the injury level with minimal sensation or AIS Grade A) with the assistance of a customized pain stimulator and intense training for the legs, were able to walk independently "over-ground" itself, and not just on the treadmill.
The pain stimulator implanted into the spine was programmed using this device. (Source: University of Louisville)
The technique used in this study, known as epidural stimulation, revolves around the idea that brain signals sometimes cross paths with that of the SCI (although not enough to generate movement on its own). The implant employs electrical stimulation to trigger the spine thus making it more reactive and excitable to these brain signals. Angeli explained the mechanism by saying, "It [spinal cord] is like it is more aware, it actually can listen to that little whisper from the brain that is still there and it can generate the motor pattern."
The two patients — one with a damaged mid-cervical area and the other with mid-thoracic region injury — who walked on the ground, without support, endured 278 sessions of pain stimulation and walking exercises over a period of 85 weeks and 81 sessions for 15 weeks, respectively. The other two, although did not re-learn how to walk, could stand upright and move their limbs. Overall, all the four people admitted to the project showed impressive results and were able to move again.
Patients of Paralysis Walk Again
At the age of 28, Jeff Marquis was in a mountain biking accident that left him with a broken neck and paralyzed chest down, and also, with minimum movement to his arms. At 35, Marquis volunteered to take part in this project, involving the use of a pain stimulator implant on his spinal cord, which was conducted at the university. Following this specialized treatment, Jeff walked about 100 yards in one session and was excited to report that he now "gets out of bed" by himself and "lives independently" too.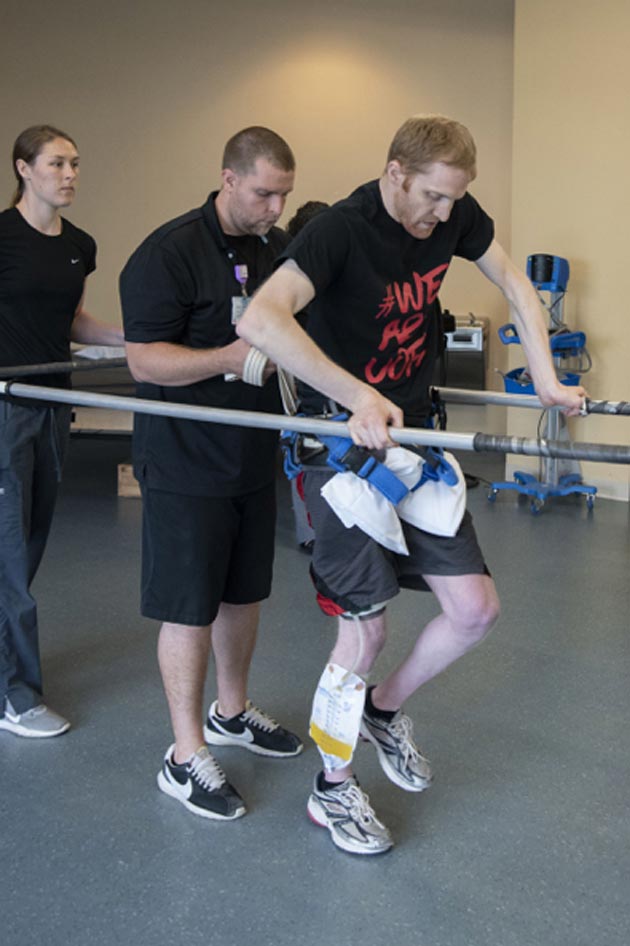 Jeff Marquis was fitted with the implant and underwent physical training, after which he was able to walk independently, since the accident that left him paralyzed chest down. (Source: University of Louisville)
Similar the case of a 19-year-old girl, Kenny Thomas, who met with a road accident and compressed her spine, in the process. She was told that there was a very little chance that she may walk again, but after participating in the Louisville research, her reaction was one of wonderment. She said, "It was like watching fireworks but from the inside. Something I was never supposed to do ever just happened. It was awesome. There's no other feeling like it in the world."
In addition, another study, published in Nature Medicine, conducted by researchers from Minnesota and UCLA observed similar results, using the same approach. Paraplegic, 29-year-old Jered Chinnock, after 43 weeks of physical activity and the implant, could walk on a treadmill, and a bit of the ground too, with support.
While there could be sometime before such pieces of research become functional and translate into reality, innovative advances like these definitely offer hope (and promise) to those incapacitated by lifestyle-altering conditions and disease.
Top Image: Spinal cord injury (SCI) can cause various degrees of paralysis depending on the intensity and location of injury on the spine. (Image Source: American Association of Neurological Surgeons)
References
Spinal Cord Injury, 2018, American Association of Neurological Surgeons, https://www.aans.org/Patients/Neurosurgical-Conditions-and-Treatments/Spinal-Cord-Injury, (accessed Sept 25, 2018)
Paralyzed patients walk again with help from pain stimulator, 2018, NBC News, https://www.nbcnews.com/health/health-news/paralyzed-patients-are-walking-again-help-pain-stimulator-n912541, (accessed Sept 25, 2018)
Angeli, C. A. et al. (2018), Recovery of Over-Ground Walking after Chronic Motor Complete Spinal Cord Injury, NEJM
Angeli C. A. et al. (2014), Altering spinal cord excitability enables voluntary movements after chronic complete paralysis in humans. Brain,137, Pp 1394-1409
Revolutionary spinal cord implant helps paralysed patients walk again, 2018, The Guardian, https://amp.theguardian.com/science/2018/sep/24/revolutionary-spinal-cord-implant-helps-paralysed-patients-walk-again, (accessed Sept 26, 2018)
Two people with paralysis walk again using an implanted device, 2018, The Verge, https://www.theverge.com/2018/9/24/17896720/paralysis-spinal-cord-implant-walking-epidural-stimulation-device, (accessed Sept 26, 2018)