The huge iceberg set to break off, or 'calve' from Antarctica's Larsen C Ice Shelf has finally broken away. Weighing in at one trillion tonnes and covering an area of around 5,800 square kilometres, it's one of the largest icebergs ever seen and by breaking off it has significantly changed the Antarctic landscape.
The progress of the rift between the main ice shelf and the iceberg has been closely monitored by Project MIDAS, an Antarctic research project focusing on the effects that our warming climate is having on the Larsen C Ice Shelf. Using a combination of fieldwork, satellite observation and computer simulations they are monitoring the changing structure of the ice and investigating what effect this may have.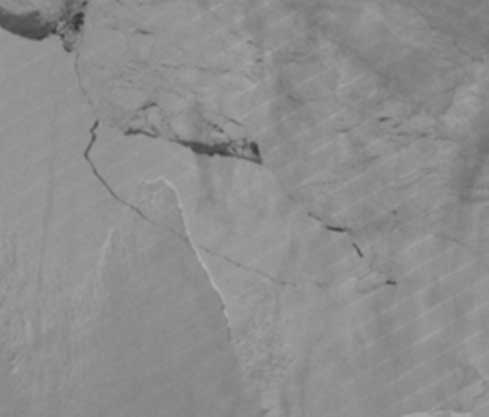 NASA Suomi VIIRS panchromatic image from July 12 2017, confirming the calving (projectmidas)
Project MIDAS estimate that the iceberg calved away from the main Larsen C ice shelf sometime between July 10 and July 12. The final break between the shelf and the iceberg was picked up by NASA, using their Aqua MODIS satellite and confirmed by their Suomi VIIRS satellite. Project MIDAS then posted about the event on their twitter account:
Breaking news! The iceberg has fully detached from Larsen C - more details to follow soon pic.twitter.com/pdSxDuAGjR

— Project MIDAS (@MIDASOnIce) July 12, 2017
Project MIDAS wrote an accompanying blogpost with more information about the calving, including information from Adrian Luckman, professor of glaciology at Swansea University and lead investigator of the MIDAS project:
"We have been anticipating this event for months, and have been surprised how long it took for the rift to break through the final few kilometres of ice. We will continue to monitor both the impact of this calving event on the Larsen C Ice Shelf, and the fate of this huge iceberg.
The iceberg is one of the largest recorded and its future progress is difficult to predict. It may remain in one piece but is more likely to break into fragments. Some of the ice may remain in the area for decades, while parts of the iceberg may drift north into warmer waters.
Map of Larsen C, overlaid with NASA MODIS thermal image from July 12 2017, showing the iceberg has calved (projectmidas)
The recent development in satellite systems such as Sentinel-1 and MODIS have vastly improved our ability to monitor events such as this."
Because the iceberg was already floating, it won't really affect sea levels, but could affect the stability of the Larsen C ice shelf as a whole, as explained by Dr. Martin O'Leary from Project MIDAS:
"Although this is a natural event, and we're not aware of any link to human-induced climate change, this puts the ice shelf in a very vulnerable position. This is the furthest back that the ice front has been in recorded history. We're going to be watching very carefully for signs that the rest of the shelf is becoming unstable."
Luckman added that:
"In the ensuing months and years, the ice shelf could either gradually regrow, or may suffer further calving events which may eventually lead to collapse – opinions in the scientific community are divided. Our models say it will be less stable, but any future collapse remains years or decades away."
Top image: Larsen C Ice Shelf Crack Details. (CC BY-NC 2.0)