For years, scientists have been searching for a medical adhesive that stays sticky when wet and does not cause irritation. Medical glue, or tissue adhesives, are becoming more and more popular as an alternative to staples or stitches. Currently, most glues available do not exhibit a high level of biocompatibility and also do not always match the mechanical properties of the tissues they're attached to.
Previous research has looked at the effectiveness of surgical glues based on marine mussels and now, another, new kind of bio-glue has also shown impressive qualities.
A team of scientists from Harvard University took on the challenge of creating a new type and design of bio-glue which appears to possess all the qualities needed – it sticks well to wet surfaces, moves with the surface it I attached to and is very strong and resilient.
Using nature to advance medicine
The bio-glue, designed by Harvard's Wyss Institute for Biologically Inspired Engineering, takes inspiration from the mucus produced by the Dusky Arion slug as a defence mechanism against predators.
Speaking to BBC News, Dr Jianyu Li, lead author of the study said: "We engineered our material to take on the key features of slug mucus and the result is really positive." The paper, titled 'Tough adhesives for diverse wet surfaces' was published in the journal Science, on July 28. In it, they describe a new approach to creating an adhesive with desirable qualities.
The new family of adhesives feature positively-charged polymers within water-based gel materials, known as hydrogels. Photograph: Wyss Institute/PA
One of the most noticeable differences between this and any other previously designed adhesive is the double layer construction – consisting of an adhesive surface and what has been called a 'dissipative matrix'. The two layers work together to provide a better adhesion to wet surfaces, an important improvement upon existing adhesives.
The first, adhesive layer, gains its supreme effectiveness through a variety of mechanisms. The glue is positively charged, which means it is attracted to the negatively charged cells of the body. Covalent bonds also form between atoms of the glue and the cell surface to which it is attached, and the glue also penetrates the tissue itself.
The major difference between this and any other adhesive though, is the shock-absorbent, dissipative matrix component of the design. Looking, funnily enough, a little like a slug sat on top of the adhesive, this element of the design is intended to absorb the physical stresses and strains, allowing the adhesive to stay attached.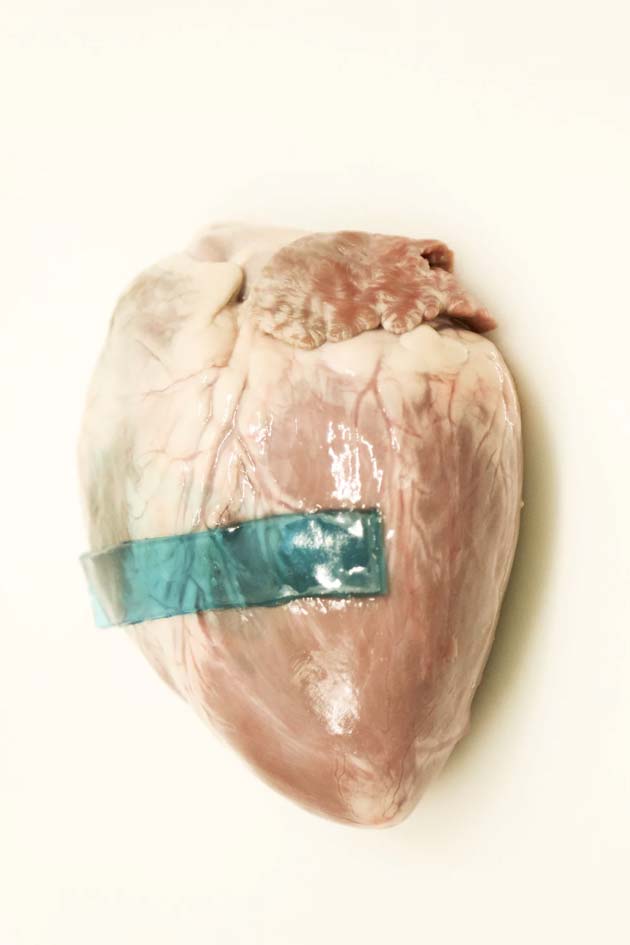 The glues were found not only to stick to pig skin but also cartilage, heart, artery and liver tissues. Photograph: Wyss Institute/PA
Off to a promising start
The new glue has proven that whilst also being non-toxic, it is three times stronger than any currently available medical adhesive. OF this, Dr Li said:
"I'm really amazed by this system. We have solved a big challenge and opened up big opportunities in the medical setting. The applications are pretty broad - the material is very tough, stretchy and compliant, which is very useful when you want to interface with a dynamic tissue like the heart or lungs."
This means that potentially, the glue could be used to help heal wounds deep inside the body. The team have already used it in laboratory tests to seal a hole on a pig's heart, with the glue staying functional over thousands of simulated heartbeats. The team also suggest it could be used to stick medical devices such as pacemakers to hearts, or be used as a liquid to release drugs to specific areas of the body.
The glue it also cheap to make, but not yet ready to be released on the market. The Wyss Institute has applied for a patent for this technology whilst it also undertakes more tests on long-term safety and efficacy.
Top image: Picture of a slug in the genus Ambigolimax. Photo taken in Fremont, CA, USA. (CC BY-SA 3.0)